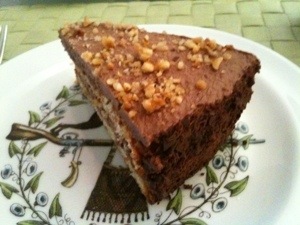 Recipe
Whip 4 egg yolks and 100g Marzipan on high until creamy. Slowly add 50g sugar, 10g vanilla sugar, a pinch of salt and a good pinch of cinnamon. Whip until creamy.
Whip 4 egg whites until stiff and slowly add 75g of sugar. Put on top of the egg yolk cream.
Sift 100g flour and 2 tsp baking powder on top of the creams and carefully fold everything in. Add 80g hazelnut brittle and 50g melted butter and fold in. Put dough into a 26cm diameter form and bake at 180 degrees for 25-35 minutes.
Wait until cake is cooled before cutting into 2 layers.
Melt 100g/120g of 70% chocolate and let it cool a bit. Whip 500ml/600ml of whipping or double cream and then add the chocolate.
Spread 2/3 of the cream onto the lower layer of the cake, put the upper layer on top and coat everything with the rest of the cream. Cover the side of the cake with chocolate shavings.
Optional decoration:
Melt a bar of white chocolate, spread thinly onto grease proof paper, sprinkle with hazelnut brittle and scour into pieces. Cool in the fridge then cut into pieces and decorate cake.
Or just sprinkle surplus hazelnut brittle over the top of the cake.
Hazelnut brittle:
Buy in Germany (it's called Krokant) or make your own by caramelising sugar then adding roasted and chopped hazelnuts and spreading onto grease proof paper. Once hardened bash into small pieces and sift to remove surplus sugar.